Applications
Nowadays electronics are omnipresent. Sometimes, to complete a task, just a smart, compact component is missing.
In those cases a small enterprise can provide a fast and cost effective solution.
On this page we provide a selection of solutions that were developed over the years.

---
Diagnostic system
portable medical diagnostics system
PMA302010
Mechanical Test Adapter
TQ412_melody
Subminiature Melody Generator
EMI PreAmp
EMI Wide-Band Pre-Amplifier
EMI Filter Test
EMI Filter Test Boards
WLAN2UART
Serial-to-WiFi - Converter Platform
BLEsensor
Bluetooth Low Energy Sensor
SSI_USB_DUO
Converter Platform
SSI_USB
Converter Platform
L&S-Module
light- and sound-module with motion sensor
Digital IO
Digital IO-Module
Loadcell ADC
Load Cell Data Converter
SteganoSquare
Data Collector with Ethernet
ASi-Xceiver
Seriell-to-AS-i - Bridge
SSI_TOOL1
Converter Platform with FPGA
allTimer
Customer Specific Timer
TECLAB
Display Controller for Lab Instruments
Zirconium
Control Equipment for HPLC Analyser Pumps
HotDog5090
Digital Temperature Controller for HPLC Column Oven
RFID_base
Compact RFID Base Station
TQ10_melody
Subminiature Melody Generator
xmasball2012
Floating Christmas Ball 2012
CentiPad
Embedded Linux Module
USS1701
Ultrasonic Gas Flow Sensor
RS422splitter
RS422 Encoder Splitter/Repeater
Shutter
Digital Speed Control for Shutter Motor
MAHPONG
MAHPONG TV-Tennis
---
Portable measurement system for dignostics, composed of a signal generator unit and a sensor unit.
In concordance with the customer, only the electrical part of the system will be sketched out.
application interface signal generator unit

ARM Cortex MCU for complex signal generation
WiFi-/BLE-host communication
energy- and standby-management

capable of long ready storage durations due to less than <10μA quiescent current during deep sleep

Interfaces

WiFi-/Bluetooth-connection to host application
2x Duo-LED
1x key connector
power stage

Supply

Li-Ion-accumulator cell pack
5V USB charging system and pack manager
application interface sensor unit
WiFi-/BLE-host communication
energy- and standby-management

capable of long ready storage durations due to less than <2μA quiescent current during deep sleep

interface

WiFi-/Bluetooth-connection to host application.
Duo-LEDs
transducers

supply

Li-Ion-accumulator cell
5V USB charging system and pack manager
dimensions
diverse PCBs between 20mm x 30mm and 130mm x 130mm, taylored towards mechanical design requirements
scope of work
development hardware
development firmware framework / driver energy management
support firmware development WiFi-/BLE-controller
development commissioning concept incl. programming adapter
manufacturing management of functional model
accredition preparation electrical part, DIN EN 60601-1-2
support accredition tests electrical part, DIN EN 60601-1-2

electrical safety
safet Li-Ion-battery
electromagnetic compatibility, EN 60601-1-2:2015
ETSI EN 301 489-1 V2.2.0 (2017-03) / ETSI EN 301 489-17 V3.2.0 (2017-03)
top
---
application in High Pressure Liquid Chromatography (HPLC)
development of the electronics hardware
support of low level firmware development

integrated controller for external column heater
4 wide range digital inputs (5V..24V, up/down biased), 4 wide range digital output contacts (48V 250mA), 2 switched 24V power outputs
RS-232, USB, and Ethernet switch (TCP/IP) software control interfaces

EMC design of overall system

fitting circuit and layout
selection of components, for example, power supply unit
EMC compatible chassis optimization
supervision/performance of EMI-tests
supervision-/preparation UL/CSA/ETL-certification (electric/safety)
top
---
application in the High Pressure Liquid Chromatography (HPLC)
exact digital temperature control for highest reproducability of measurement results
cost optimized design based on Atmel AVR ATmega1284
communication via RS232 and Ethernet
development of the electronics hardware
support of low level firmware development
top
---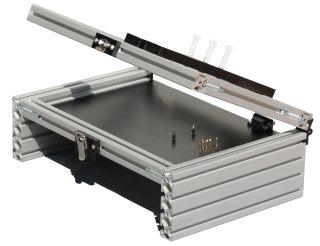 universal mechanical test adapter, adjustable to different devices under test
the fitting test device for professional quality control of your devices
design of the baseplate during the hardware design process, directly from device under test CAD data
transparent pricing - 50-65% typ. savings compared to third party suppliers

exchangeable base plate
leading, spring loaded guide pins
spring loaded contact pins
adjustable downholders
plastic adjustment screws for optimum downholder force
device under test specific electronics interface

technical data of standard adaptor (other dimensions available)

footprint (B x T): 300mm x 200mm
height: 100mm (w/out downholders)
usable area: 255mm x 155mm
mass: 2.5kg
baseplate thickness: 10mm
top
---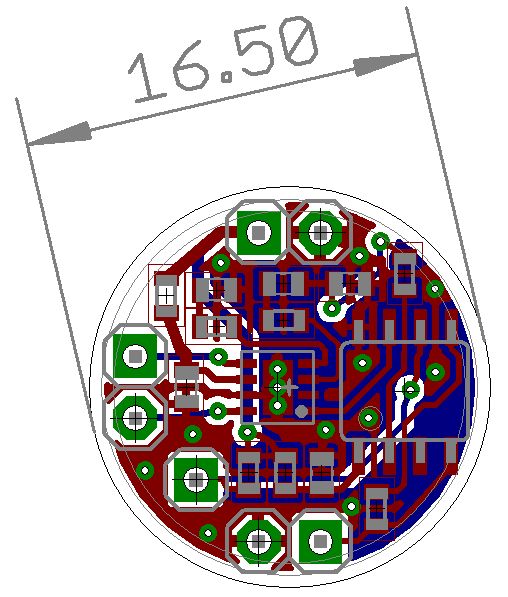 subminiature tone generator

melody memory for 600 notes
sensor input for e.g.

switch
light sensor
magnet sensor

Class-D-amplifier

2.8W into 4 Ohm
1.7W into 8 Ohm

Ultra-Low-Power

standby current below 1 µA
standby time at CR2032 several years
operating current ca. 4 mA plus speaker current

microcontroller ATtiny412

SOIC8 package
4 kByte Flash
256 Byte SRAM
20 MHz

PCB

16.5mm diameter
2 layers, single sided SMD
top
---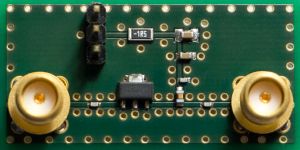 HF-pre-amplifier with adjustable frequency response
SMA female connectors
cascadable 50Ω inputs/outputs
applications

EMI probe pre-amplifier
spectrum-analyzer tracking-generator pre-amplifier

parameters standard configuration

main frequency range 20MHz to 1GHz
output power 20dBm
idle power consumption 90mA * 5V
top
---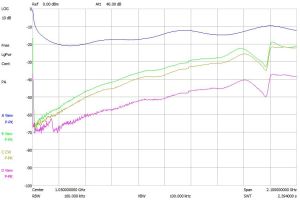 testboard for the evaluation of HF-properties of electronic components
allows validation of datasheet parameters
verification of interaction between components
cost optimization by component comparision
reduces EMI design risk
configuration examples

line and supply filter / dampening filter

SMA female connectors
coplanar waveguide 50Ω
pi-filter structure with several SMD-pads

supply filter

SMA female connectors
coplanar waveguide 50Ω
pi-filter structure with several SMD-pads
pi-filter structure with THT-Pads
auxiliary pads for SMD-fuses and protection diodes

universal carrier

pads for SMA female connectors or coax
filter struktures can be directly applied by insulation milling

example frequency response measurement

1000Ω 0603 ferrite
various additional capacitors
top
---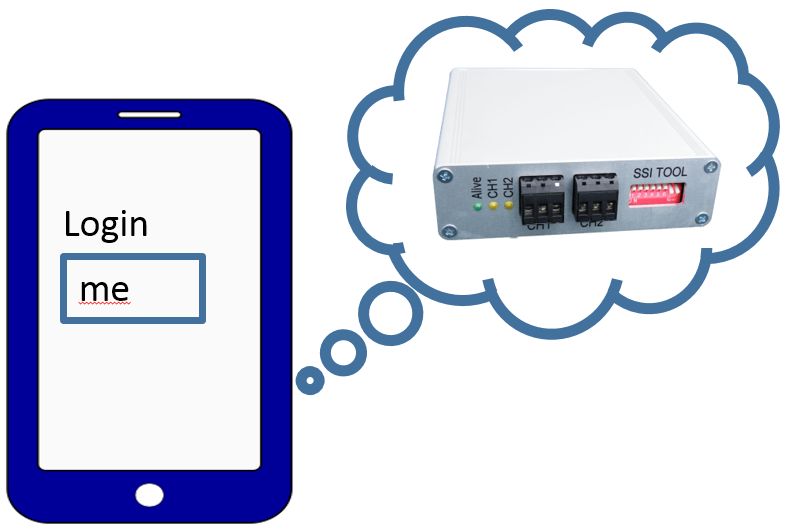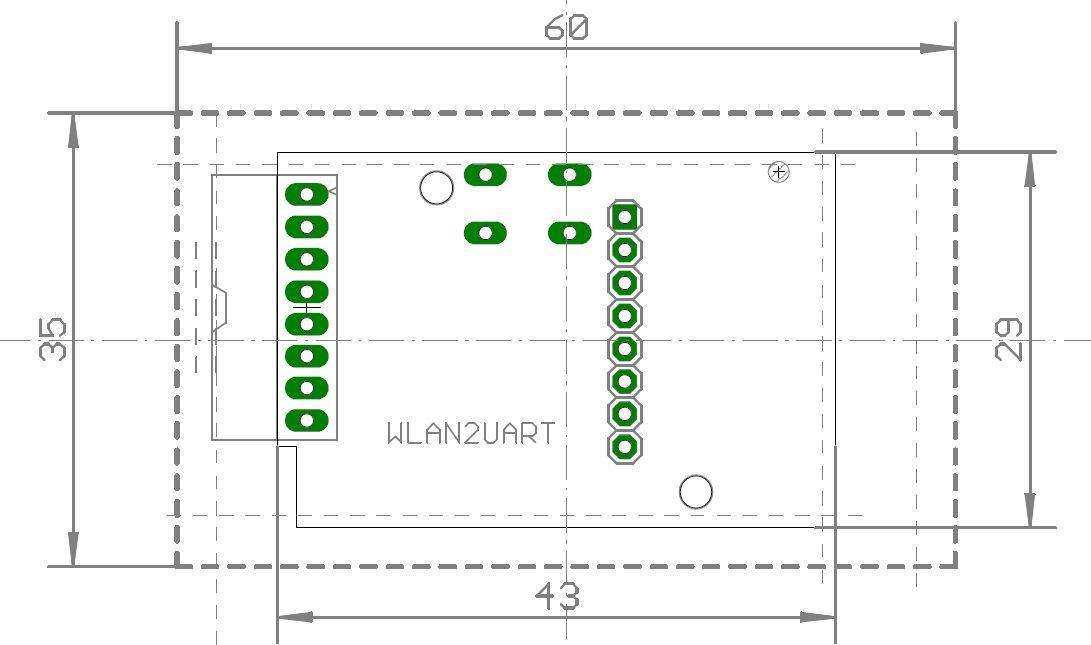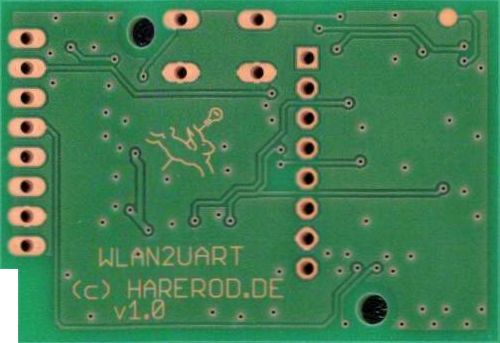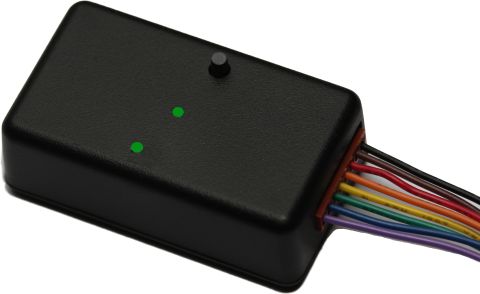 WiFi/IoT - adds WLAN / IP to any device and connects your application to the "Internet of Things"

HTTP/webserver

provides wireless access via webbrowser from smartphone, tablett or laptop
uniform user interface for Windows, iOS, Android, Linux

TCP/IP / UDP/IP

flexible and efficient access, for example, to sensor data

WLAN spezifications

802.11 b/g/n protocol
Wi-Fi Direct (P2P), soft-AP
Integrated TCP/IP protocol stack
+19.5dBm output power in 802.11b mode
Wake up and transmit packets in < 2ms
Standby power consumption of < 1.0mW (DTIM3)

application interface

1x UART (3,3V or RS232)
I2C (optional), SPI (optional)
2..7 digital inputs/outputs
user key
2x LED

development environment

open IDE Eclipse/GCC
available for Windows 7 and Linux
long-term project maintenance safety

requirements specific parts assembly options
supply voltage: 3,3VDC fixed or 4,5V..14VDC
supply current: self < 200mA, standby-current application dependant < 0.1mA
dimensions: PCB: 43x29mm (optional plastic case ca. 60x36xmm)
top
---
compact Bluetooth sensor platform

Texas Instruments CC2541F254RHAT

2.4-GHz Bluetooth low energy System-on-Chip
Bluetooth 4 Low Energy Standard (BLE)
up to 2Mbps data rate
MCU Core 8051
simplified BT accreditation possible

periphery
step-up-converter

dynamically adjustable
operating mode dependent MCU voltage
1x AAA NiMH 800mAh

MicroUSB-charging connector

charge logic

battery voltage measurement
charge current measurement

operating mode display by two LEDs
operating mode select by push button

Firmware

BLE Stack by TI for IAR Embedded Workbench
application specific extensions
TI drivers, for example, for Win10 and iOS

current consumption: < 0.2mA standby, 0.5..20mA operation
dimensions: PCB 50x28mm (including battery ca. 50x42x13mm)
top
---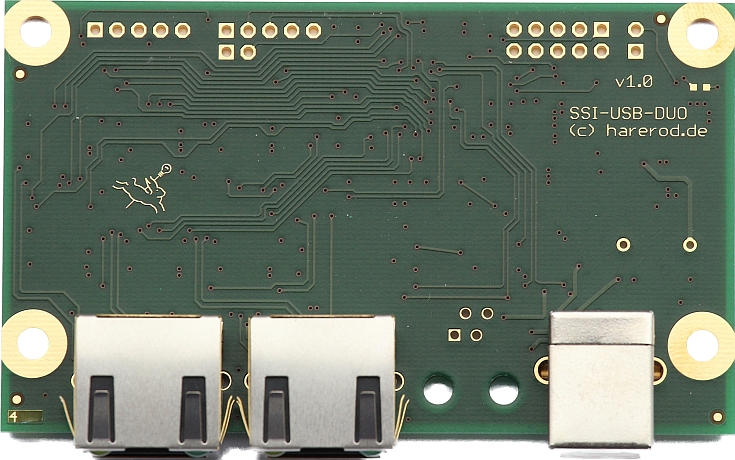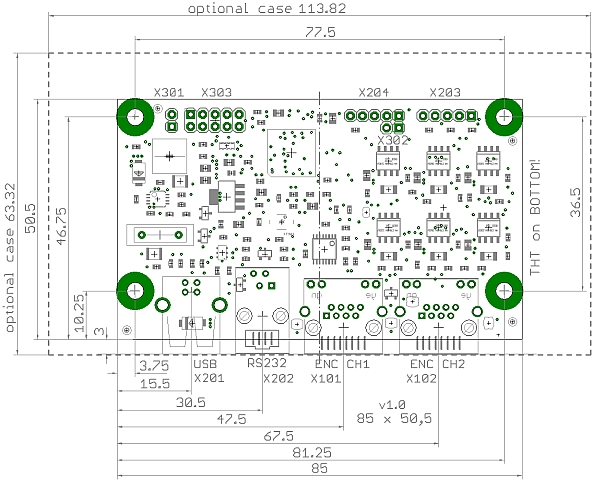 flexible platform for customer specific converters, e.g.

translation from ABZ to SSI
SSI or ABZ scaling

e.g. 1000 pulses per revolution to 400 pulses per revolution

SSI to RS232 or RS485

digital interfaces for up to 2xSSI / 2xABZ / 6xRS422 / 6xRS485
fast bidirectional drivers for up to 10Mbit/s

achievable clock rates depend on the application (e.g. SSI-slave 2MHz, ABZ-scaling 1MHz)

communication 1x USB-device (optional RS232)
free logic configuration using ARM Cortex M4 Controller
requirements specific parts assembly options
power supply: via USB (opt. separate 5VDC or 24VDC).
current consumption: < 200mA
dimensions: 85x50.5mm (optional plastic case ca. 114x64x39mm)
SSI-products are listed at IB Kirchen
top
---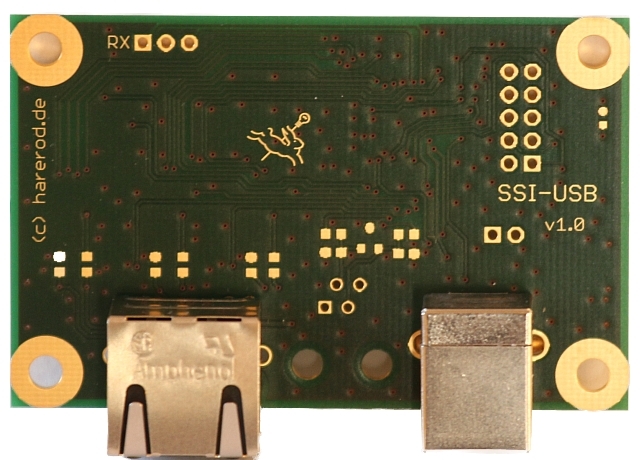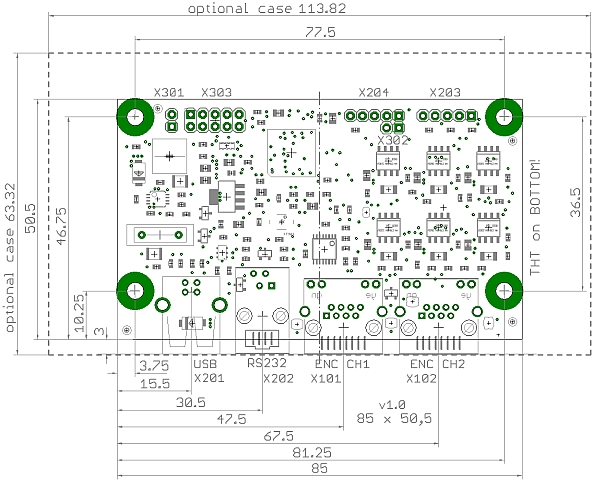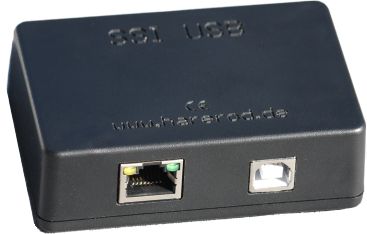 flexible platform for customer specific converters, e.g.
digital interfaces for up to 1xSSI / 1xABZ / 3xRS422 / 3xRS485
fast bidirectional drivers for up to 10Mbit/s

achievable clock rates depend on the application (e.g. SSI-slave 2MHz)

communication 1x USB-device (optional 2x 3V3-RS232)
free logic configuration using ARM Cortex M4 Controller
requirements specific parts assembly options
power supply: via USB (opt. separate 5VDC-9VDC)
current consumption: < 200mA
dimensions: 68x43.8mm (optional plastic case ca. 87x57x39mm)
SSI-products are listed at IB Kirchen
top
---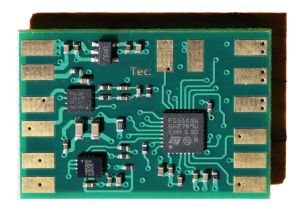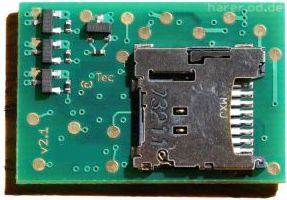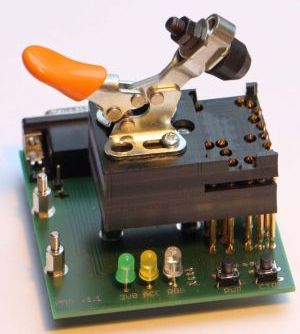 light- and sound-module for theater
application interface

ARM Cortex M0 MCU

STM32F051K8
64kB Flash / 8kB SRAM

interfaces

3x Power-LED, 2A, PWM
audio amplifier 4 bis 8 Ohm, maximum 2W
6D motion sensor
microSD-slot
2x push button interface
serial interface, 3,3V-level

power supply

single cell Li-Ion-Accu with 3,7V nominal voltage

all connectors as SMD-pads 4mm x 2mm on PCB top

dimensions
scope of work

development hardware
development firmware framework/drivers
development test equipment: test adapter, test software
manufacturing of sample and pre-series
top
---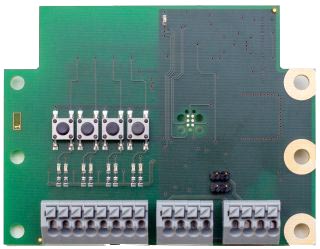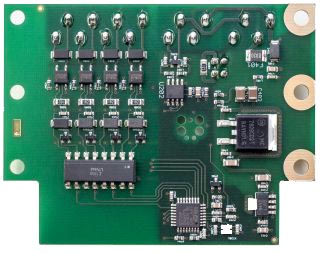 Bus enabled Digital Input-/Output-Module
Application interface

ARM Cortex M0 MCU

STM32F051K8
64kB Flash / 8kB SRAM

2x bus interface

2-wire-RS485
24V power supply

4x configurable digital in-/outputs

digital input, isolated, wide range 5V..28V
digital output, isolated, max. 28V 100mA
status display

status LED green - input voltage detected
status LED orange - output contact closed

test buttons

temperature sensor
1x status LED
all connectors are WAGO 250 terminal block 1,5qmm RM3.5

Housing

case and cable entries protection IP67
material: aluminium

Dimensions

PCB: 90mm x 68mm
Case: 100mm x 100mm x 81mm
top
---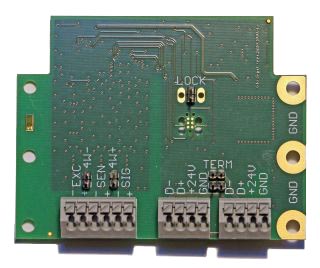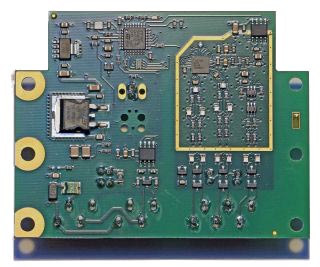 Bus enabled loadcell signal converter
Designed for official verification according to "International Recommendation OIML R 76-1 Edition 2006 (E)"
Application interface

ARM Cortex M0 MCU

STM32F051K8
64kB Flash / 8kB SRAM

2x bus interface

2-wire-RS485
24V power supply

1x load cell

4-/6-wire
AC/DC-measurement
24bit ADC AD7195

calibration seal connector for hard firmware protection
temperature sensor
1x status LED
all connectors are WAGO 250 terminal block 1,5qmm RM3.5

Housing

case and cable entries protection IP67
material: aluminium

Dimensions

PCB: 90mm x 68mm
Case: 100mm x 100mm x 81mm
top
---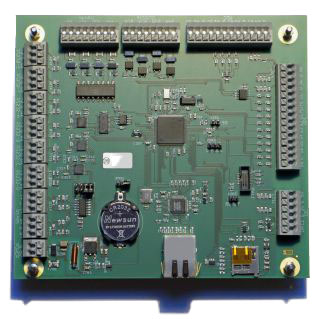 Extendable module for multi-channel data collection.
Application interface

ARM Cortex M4 MCU @ 168MHz

STM32F417VG
1024kB Flash / 192kB SRAM
168MHz
CRYPTO-Hardware

1x 100Mbps Ethernet
5x UART RS232 RX/TX
1x UART switchable RS232 / RS485
4x digital input, isolated, wide range 5V..28V
4x digital output, isolated, max. 28V 100mA
4x ADC, 12bit, 0..3,3V
1x SPI, 8x ChipSelect, 3,3V
1x I2C, 3,3V
1x SD/MMC Card
battery buffered real time clock
1x status LED
power supply 5V
all connectors are WAGO 250 terminal block 1,5qmm RM3.5

Dimensions: PCB: 150mm x 135mm
top
---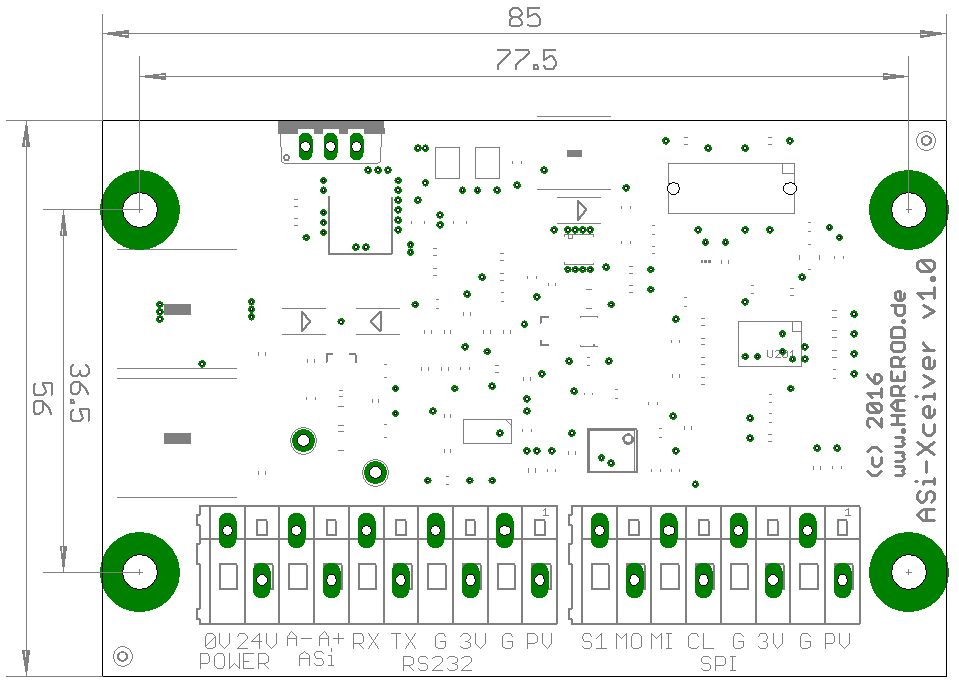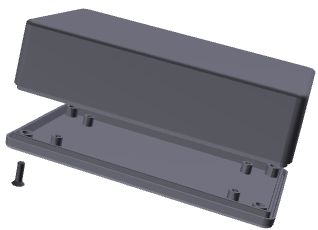 AS-Interface, short "AS-i", means Actor-Sensor-Interface. It is an industrial fieldbus system, which transports data and power supply on two wires. Since 1999 AS-Interface is an international standard according to EN50295 and IEC62026-2.
Application example:

power and data transport via two wires
data protocol: RS232 115200 8N1

ASi-Xceiver is an AS-i development platform which implements the following functions without AS-i-ASICs:

AS-i bus master

physical translation of Sensor/Actor-Data to AS-i
logical translation of Sensor/Actor-Data to AS-i- or proprietary protocol

AS-i slave

physical translation of Sensor/Actor-Data to AS-i
logical translation of Sensor/Actor-Data to AS-i- or proprietary protocol

AS-i power supply

injection of 24V supply voltage into the AS-i-bus

AS-i bus interface

62 devices
data rate 160kBaud
line length 100m (without repeater)
WAGO 250 cage clamp 1,5qmm RM3.5

application interface

ARM Cortex M0 MCU

STM32F030F4P6
16kB Flash / 4kB SRAM
48MHz
TSSOP20

1x UART (3,3V / RS232 / RS232 floating)
1x SPI (3,3V)
1x Status LED
supply output 3,3V (400mA max.)
supply output 24V (4A max.)
WAGO 250 cage clamp 1,5qmm RM3.5

AS-i 24V power supply

power supply input 24V (3A max.)
AS-i data coupler (3A max.)
WAGO 250 cage clamp 1,5qmm RM3.5

requirements specific parts assembly options
supply voltage range: AS-i bus voltage 16..34VDC
supply current: self < 40mA, standby-current application dependant < 5mA
dimensions: PCB: 85x56mm (optional plastic case ca. 114x64x29xmm)
top
---
display- and communications-unit for a high performance temperature maintaing equipment
circuit design and firmware development

integrated STM32 controller for display, touch and backlight
communications interface between host-PC and dedicated temperature controller
staves programmable beeper, 2x case fan, 3 digital inputs, 1 floating digital output
RS-485, RS-232 and VCP-/DFU-USB software control interfaces

a product of head electronic GmbH - the TEClab16-24

presented at LASER World of Photonics 2013 in Munich
top
---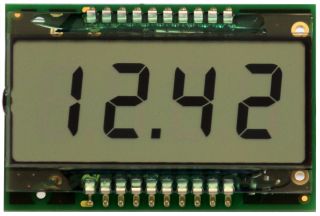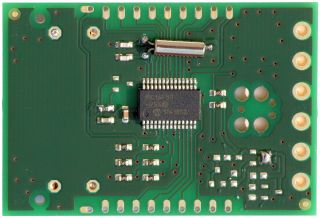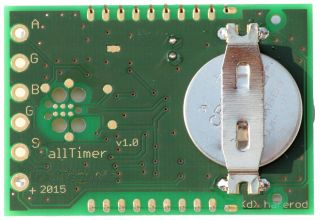 customer specific timer with LCD

display range up to 99.99s

cost optimization by microcontroller application

assembly language program
instruction clock 8192 Hz
LCD direct control (glass only, 3-fold multiplexing)
program memory usage ca. 500 x 12 Bit
data memory usage ca. 23 Byte

microcontroller PIC16F57

2048 x 12 Bit Flash
72 Byte SRAM
20 MHz max.
SSOP28 package

battery runtime

ca. 5000 operating hours using CR 2032
supply voltage 2.8..3.3V
supply current ca. 15..40μA

PCB

52mm x 35,5mm
microcontroller
LCD-interface
battery holder
up-/down voltage converter (optional)
top
---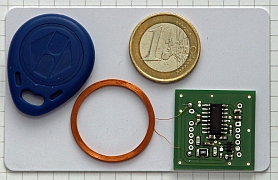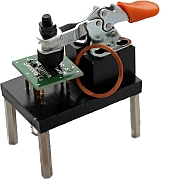 industrial standard 125kHz RFID

EM Microelectronic EM4095
base modul for read/write

high range due to 2,8mH transceiver coil

adaptable to customer specific coils

integrated Manchester-to-serial-decoder

5V-RS232, 9600 Baud
adaptable to customer specific protocols

microcontroller ATtiny10

SOT23-6 package 2mm x 3mm
1 kByte Flash
32 Byte SRAM
8 MHz

module size
development of hardware, firmware and test-/programming-adapter for IB Kirchen
top
---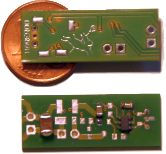 demonstrator for subminiature tone generator

tone generator in assembly language
melody memory for 200 notes
minimal config is 4 SMD elements on ca. 1 square centimeter PCB
sensor input for e.g.

switch
light sensor
magnet sensor

ultra-low-power

standby current below 1 micro ampere
standby time at CR2032 several years
operating current ca. 1 milli ampere plus speaker current

microcontroller ATtiny10

SOT23-6 package 2mm x 3mm
1 kByte flash
32 Byte SRAM
8 MHz

PCB Demonstrator

26mm x 11mm
microcontroller
PWM-amplifier and filter(optional)
voltage regulator (optional)

PCB with CR2032 battery holder

29mm x 24mm
microcontroller
PWM-amplifier and filter(optional)
push button
top
---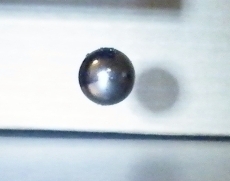 Demonstrator for compact control application

PD-controller in assembly language

microcontroller ATtiny10

SOT23-6 package 2mm x 3mm
1 kByte flash
32 Byte SRAM
8 MHz

PCB

50mm x 11mm
microcontroller
PWM-amplifier
current measurement amplifier (optional)
power supply
top
---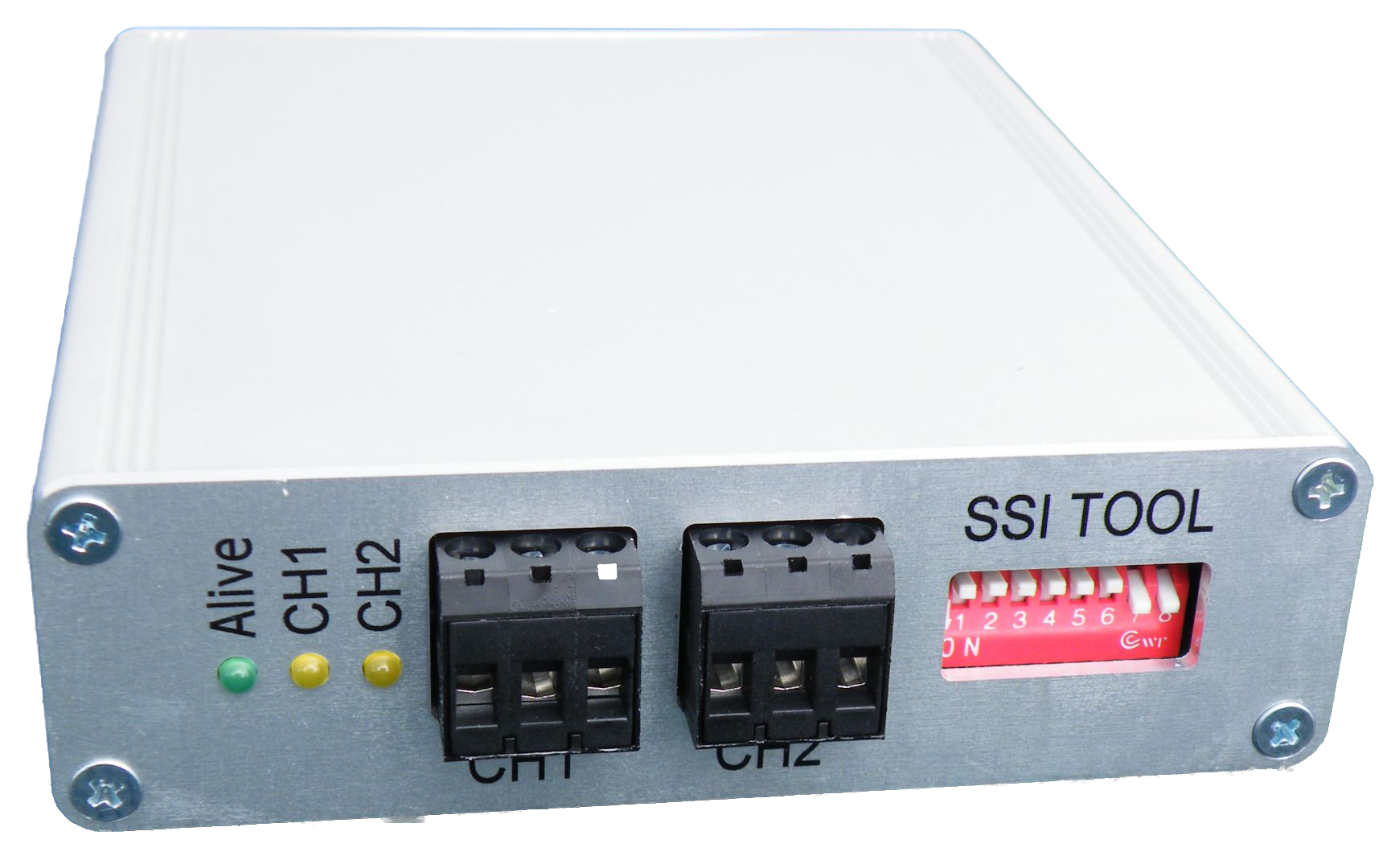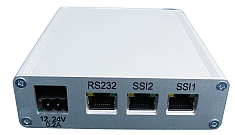 flexible platform for customer specific converters
digital interfaces for up to 2xSSI / 2xABZ / 6xRS422 / 6xRS485
fast bidirectional drivers for up to 10Mbit/s
precision analog inputs up to 2x 24bit +/-10V
communication 1x RS232
free high speed logic configuration due to FPGA
optional integration of XILINX PicoBlaze microcontroller inside FPGA
requirements specific parts assembly options
SSI-products are listed at IB Kirchen
top
---
AT91RM9200 ARM9 CPU / SDRAM / Flash / miniSDcard
communication:

LAN / seriell / USB / Sound

interfaces:

address-/data-Bus / I2C / SPI / 1wire / CAN

1,1W typical power demand
94mm x 62mm
CentiPad was developed as a platform for HAREROD customer applications

recent application e.g. as development platform for the Finnish AALTO-1 satellite
top
---
conversion of a LabVIEW setup into a cost efficient small appliance
analog frontend for ultrasound transducers
digital signal prozessor TMS320F2812

signal acquisition and processing (Assembler)
command interpreter (C)

system interface: 5V sensor supply and RS232 interface
top
---
Splits ABZ-Encoders into two RS422-outputs
additional TTL-output
signal reconstruction
application specific maximum data rate: 250kbps, 2.5Mbps, 20Mbps
EMI protection
self supply viw wider range SEPIC-converter 4,5V..29V
sensor supply (output): 5V, 400mA
top
---
Digital Speed Control for Shutter Motor
application for medical gas analysis
replacement of an analog DC motor control by 8pin ATtiny15
simpler commissioning and better long term stability
longer life time due to additional motor fitness functions
significant cost reduction
top
---
Control of a Portable Nutrition Pump with Microcontroller
application in medical patient nutritioning
replacing an analog DC motor control by 8pin PIC12
simpler commissioning and better long term stability
improved performance
significant cost reduction
top
---
often build, fun for the whole family
BAS-video-generation in AVR-Assembler
link to German MAHPONG-Seite
top